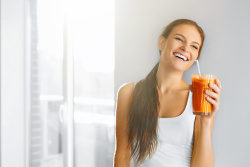 Are You Dieting for a Healthy Lifestyle?
Are you more interested in living a healthy lifestyle than simply losing weight? If so, you're not alone. More and more people are making personal health a priority and tossing traditional dieting tactics to the curb.
Click here to read more >>>
What's
Cooking
Stay on track with delicious, healthy recipes. From breakfast to dinner, we've got you covered.
Click here to explore recipes. >>>