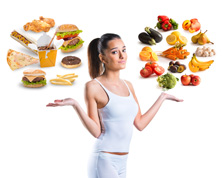 Redefine Your Perception
Transform your relationship with food into a healthy one and you'll set yourself up for a lifetime of success! It's important to recognize how much food we eat, the type of food we eat, and understand the real reason behind "why" we eat it. This relationship with food can be unhealthy at times; but, YOU have the power to redefine it. And WE can help.
Click here to read more >>>
What's
Cooking
Stay on track with delicious, healthy recipes. From breakfast to dinner, we've got you covered.
Click here to explore recipes. >>>