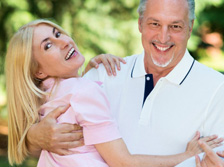 Avoid Age-Related Weight Gain
Did you know that after 40, dieting by itself, may not be enough to maintain your current weight, let alone help you lose any extra? While eating right definitely helps, other factors, like changes in metabolism and loss of muscle mass, play an increasingly important role with age.
Click here to read more >>>
What's
Cooking
Stay on track with delicious, healthy recipes. From breakfast to dinner, we've got you covered.
Click here to explore recipes. >>>