Chocolate Chip Cookies - 12 pack
The Hollywood Cookie Diet®
Eat 3-4 cookies, replacing breakfast and lunch, then eat a sensible dinner. Each box contains 12 cookies.
We all know that to lose weight we have to restrict calories, but that is easier said than done. When hunger strikes, diets fail. The Hollywood Cookie Diet® works by satisfying your hunger and your sweet tooth. Simply eat up to four cookies a day, replacing breakfast and lunch, and eat a sensible dinner. Eat a cookie for breakfast, mid-morning snack, lunch and mid-afternoon snack. The Hollywood Cookie Diet® works because it is a low calorie diet based on caloric restriction by meal replacement and portion control.
Each cookie is individually wrapped for eating on-the-go. Take a tasty meal with you to the office, on the plane, on the road, to the gym, or anywhere else you go. Each cookie is also a good source of fiber and protein.
Based on the recommended 4 cookies per day (approximately 600 calories) and a light sensible dinner (approximately 800 calories), the average person who was consuming 3000 calories (or more) per day will lose approximately 15 pounds per month. Of course every individual is unique and results will vary based on many factors. An increase in exercise will help to increase weight loss.
This may be the last diet you will ever need. Use The Hollywood Cookie Diet® for as long as you want until you achieve your weight loss goals. You can also use the The Hollywood Cookie Diet® as a maintenance program. Always keep a cookie in your car, in your office, or anywhere you get hungry, so you can enjoy a satisfying treat and not gain weight.
Directions for use: Enjoy three to four cookies per day in place of breakfast and lunch.
Suggested schedule: One cookie for breakfast, midmorning snack, lunch and midafternoon snack. Eat a sensible dinner (see suggested recipes). Exercise regularly — it's good for your heart and good for your figure.
Ingredients: Unbleached wheat flour (wheat flour, niacin, reduced iron, thiamin mononitrate, riboflavin, folic acid), Semi-sweet chocolate chips (unsweetened chocolate, sugar, cocoa butter, dextrose, natural vanilla extract), Cane syrup, Cane sugar, Palm oil, Vegetable glycerin, Pea protein, Chicory root fiber, Rice protein, Baking soda, Natural flavor, Sunflower lecithin, Xanthan gum, Sea salt, Cinnamon.
Allergen Information: Contains Wheat.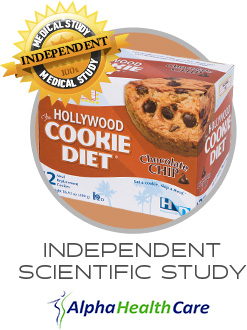 The Alpha Medical Center, a specialist in weight loss for over 22 years, conducted an independent clinical test of the Hollywood Cookie Diet®.
The medical study was based on the following:
Participants: 22
Ages: 21 - 71
Gender: Male and Female
Each participant's baseline weight was taken on commencement of the test. At such time, after the participant was weighed in, they were given the Hollywood Cookie Diet® and instructed to eat four (4) cookies each day in place of breakfast and lunch. They were also instructed to eat a dinner consisting of no more than 900 calories. Two (2) weeks later, each participant returned for post test weigh-out and evaluation. A commercial medical scale was used to weigh each participant and the participants wore the same clothing for both the weigh-in and weigh-out.
RESULTS:
Each participant lost a significant amount of weight.
Weight loss ranged from 3 pounds to 11 pounds.
All participants were very happy with their individual weight loss.
All participants expressed their desire to use the diet again on a regular basis.
No one reported any stomach upset, constipation, or diarrhea.
All participants liked the taste of the Hollywood Cookie Diet®.