The Hollywood Diet® line of products is an excellent set of tools that can help make your lifestyle transition easier than ever before. Over the past two decades, thousands of people have found new ways to use The Hollywood Diet® to help them live happier, live healthier, and achieve the life they've imagined for themselves. Let us help you learn how to use The Hollywood Diet® effectively so you too can live your best life now.

Our individual products can be used for weight loss, for weight maintenance, as a cleanse, or simply as healthful (and affordable) snack or meal replacement option for busy people on the go.
Below you'll find out how to use The Hollywood Diet® products as part of a regular diet plan or simply as a way to snack happier, cut unnecessary calories, and live healthy!
The Hollywood 48-Hour Miracle Diet®: Your perfect partner for a quick weight loss solution—drop up to 10 pounds in just two days! Fit into that wedding dress, make an impression at your class reunion, or jump start a positive life change in 48 hours.
The Hollywood Cookie Diet®: Tasty treats you can use as portion controlled snacks and meal replacements, whether your end goal is to lose weight or simply eat healthier while you're busy living life. Get the nutrients your body needs without the empty calories.

WHAT: The Hollywood 48-Hour Miracle Diet® is scientifically proven to help you lose several pounds over the course of just a couple days. It works by giving your body the micronutrients it needs in the form of a delicious and nutritionally balanced juice drink. By limiting your caloric intake, you shed unwanted weight without "starving" your body.
HOW: Use The Hollywood 48-Hour Miracle Diet® as a food replacement for two days by mixing one 4 ounce serving of juice with 4 ounces of water. Repeat 8 times over the course of 48 hours. Drink an additional 8 glasses of water per day. The fast will help cleanse your system of toxins, dramatically reduce your caloric intake, and create visible results fast.*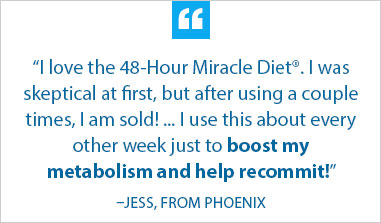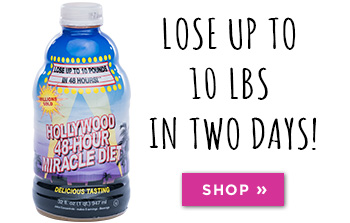 TIP: By cleansing your body and reducing your caloric intake, the great tasting formula lets your body's natural fat burning mechanisms kick into overdrive. Use as part of the 5/2 Diet (or any other intermittent fasting diet) for exceptional results without starving your body of the essential vitamins and minerals it needs to thrive.
WHAT: The Hollywood Cookie Diet® line of great tasting meal replacement cookies to help cut your calories while maintaining optimal nutrition throughout the day. Use as healthy snack options or complete meal replacements.
HOW: Eat up to four great-tasting cookies or wafers each day (for breakfast, mid-morning snack, lunch, and mid-afternoon snack) then top off the day with a sensible and nutritious dinner. Limit your caloric intake throughout the day and shed unwanted weight naturally without hunger pangs, uncontrollable cravings, or succumbing to your sweet tooth.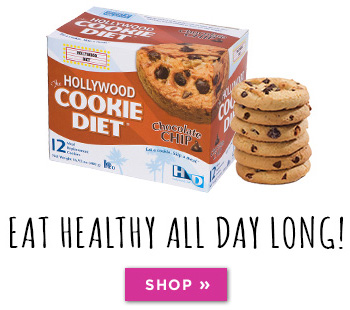 TIP: The Hollywood Cookie Diet® is a great way to always have a healthy meal at hand. Each cookie or brownie contains essential nutrients you need, fiber to combat hunger, and great taste to trick your taste buds. Plus they're individually wrapped—grab one for the office, the commute, or any time you're headed out the door!