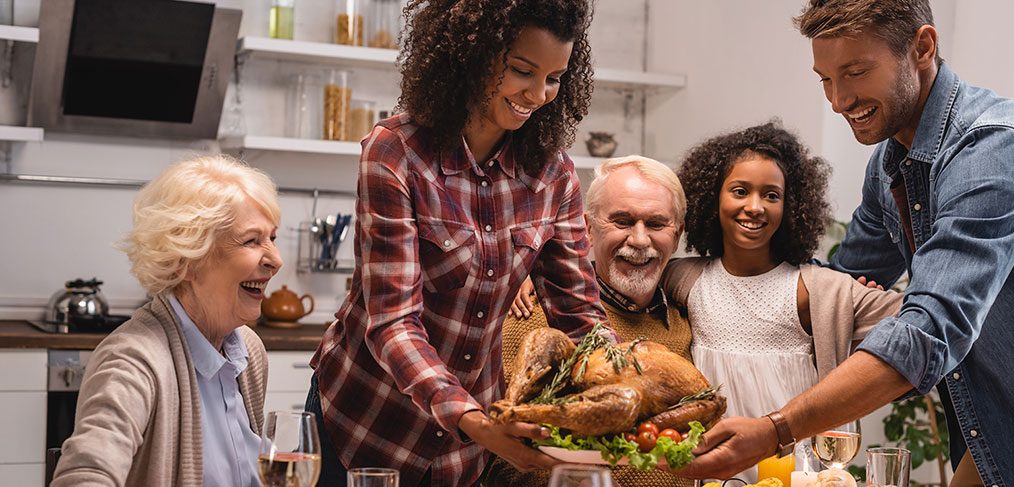 A Healthy, Happy Thanksgiving
A lot of dieters dread Thanksgiving, thinking they only have two choices:
1) join in the festivities and pay the price with an expanding waistline or
2) stick to a diet and be miserable while everyone else chows down
Since Thanksgiving is centered around a lavish dinner, where traditionally we give thanks by eating as much as we can, it can be a dieter's nightmare. Below are five tips to keep you both slim and sane.
1. Be a Bit Selfish
It sounds like the opposite of the holiday season sentiment, but if you are serious about making changes in your life, you have to make yourself a priority. Don't wear yourself out doing everything for other people and neglect your health. Don't load up on unhealthy foods just to avoid offending the cook(s). It is okay to celebrate yourself this holiday season and put yourself first.
TIP: Bring others into the loop so they can be supporters instead of detractors. Let your friends and family know that you are making healthier choices and ask for their encouragement. Let them know that your choices are just for you and not a judgment on anyone else.
2. Eat Smart
The good news is that the centerpiece of most Thanksgiving dinners is turkey, a lean source of healthy protein. Choose white meat, remove the skin, and skip the gravy – now you have the start of a healthy and nutritional meal. Next, fill your plate with as many veggies as you can. Avoid breads, stuffing, casseroles, and canned cranberries. Eat only one serving, but savor each bite. For dessert, choose fruit or pumpkin pies rather than pecan or chocolate pies. Or even better, have some fresh fruit or just a cup of coffee after dinner.
TIP: Don't starve yourself all day thinking that you'll be able to indulge at dinner without breaking the calorie bank. You'll be more likely to make unhealthy choices and overeat if you are starving. Have a light breakfast and lunch (depending on the day's schedule). Choose a meal replacement like the delicious Hollywood Cookie Diet® to keep hunger in check and still feel indulgent.
3. Cook Smart
If you are in charge of making Thanksgiving dinner, you are in the perfect role to make sure that everyone enjoys a healthier holiday. For your veggie dishes, let the natural flavors shine through. For green beans, mix with toasted almonds instead of fried onions. For mashed potatoes, use vegetable (or chicken) broth and Greek yogurt instead of butter and cream. For sweet potatoes, try orange juice, nutmeg and cinnamon instead of using marshmallows. Make a tart cranberry relish in a food processor with fresh cranberries, apples and orange juice. Serve a flavorful rice pilaf instead of stuffing, and offer fresh, seasonal fruit for dessert.
TIP: Get your family excited about a healthier Thanksgiving by involving them in the process. Make it a fun challenge to think of new ways to make dinner taste great without being unhealthy.
4. Get Up
When you're done eating, volunteer to help clear the table, wash dishes, or pack leftovers. Sitting around the table staring at the food is a temptation to keep eating, so get up and get moving. Some industrious cleaning will burn some extra calories too.
TIP: After dinner, encourage the whole group to get moving. Play a lively game of charades, take a walk around the neighborhood, or play an outdoor game.
5. Recover
The day after Thanksgiving, get right back on track. Make a date with a friend to workout and burn off those holiday calories. Eat plenty of veggies, lean protein and fiber to recover from any overindulgence the night before. Drink plenty of water and of course, don't forget to give thanks!
TIP: The Hollywood 48-Hour Miracle Diet® is the perfect choice to recover — a two-day juice fast to get back on course with your weight loss goals.