After Halloween, Thanksgiving is the next big diet buster holiday. You may be dreading the thought of overindulging or missing out of the fun. Here's some tips to make sure you enjoy your Thanksgiving celebration.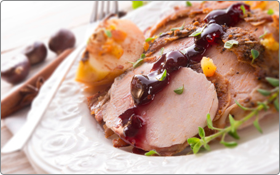 DO! Even though, as the saying goes, you can't out-train a bad diet, it's still a great idea to get a pre-Thanksgiving workout. Not only will it mitigate the caloric impact, but you'll feel stronger and will be more likely to make healthy choices.
DON'T! Don't skip breakfast or lunch, trying to save all your calories for the big dinner. You'll end up starving and could eat more than you might have all day.
DO! Focus on family, togetherness, gratefulness and all the other intangible aspects of the holiday, instead of just making it all about the food.
DON'T! Don't load up on the simple carbs and sugary food. Worst offenders? Stuffing, bread and butter, canned cranberry sauce, anything with "casserole" in the name, and pecan pie.
DO! Enjoy lean turkey, vegetables, roasted potato, salad, and perhaps a little sliver of pumpkin pie. We want you to enjoy your dinner without overdoing it. If you're the cook, you have even more opportunity to make the dinner more healthful for your family by limiting sugar, oil and butter in the preparation.
DON'T! Don't reach for the alcohol. It will add calories and stimulate your appetite, as well as impairing your judgment on whether second helpings are a good idea (they're not).
DO! Eat slowly, and savor every bite. Instead of rushing through your dinner to get to the next full plate of food before you feel too stuffed, just reward yourself by relishing every bite of your holiday favorites.
DON'T! Don't feel as though indulging at Thanksgiving has ruined your diet and you might as well give up until January. Be realistic. This is a time of year when there will be a lot of temptation, so try to adopt a 80/20 mindset. Keep up your healthy diet at least 80% of the time, and allow some room for indulgences.
DO! Get back on track as soon as possible. Take a walk after dinner or start the next day off with a nutritious breakfast and a workout.