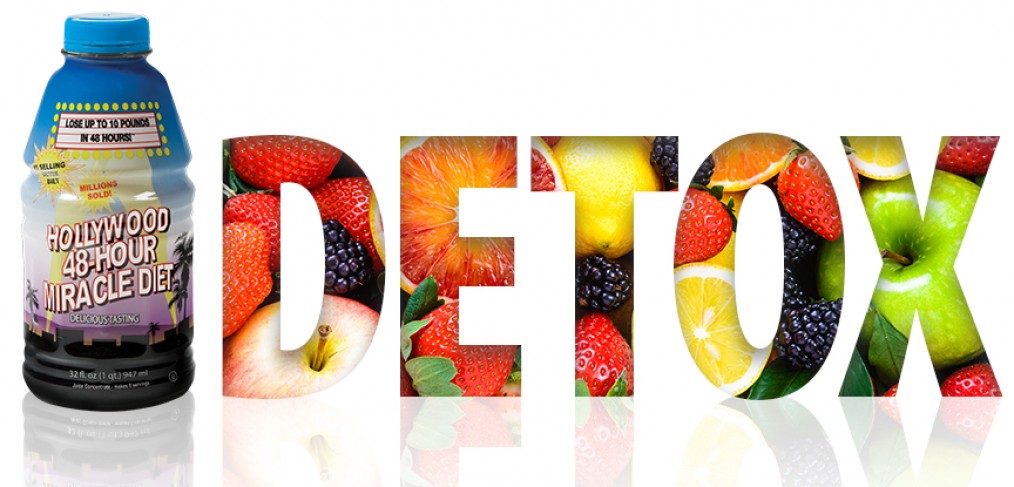 The Detox Diet
Naturopathic doctors and holistic nutritionists have understood the benefits of detox diets for years. They've been using these cleansing "rituals" to clear patients' bodies of excess weight and accumulated toxins for centuries. Similar to fasting diets, these detox diets limit what an individual can eat or drink for a period of a day or more, allowing the body to process out (or purge):
Excess waste
Harmful toxins
Excess water
Unneeded calories
And more!
The results can be amazing. People who have undergone a detox literally lose pounds in just days.
And the best part of a detox is it uses your body's own digestive and metabolic systems to do the work. All you have to do is give your body the hydration and micronutrients it needs during your cleanse—the rest is automatic! That's where The Hollywood 48 Hour Miracle Diet® comes in – the original detox. It provides essential vitamins and minerals as well as a significant portion (roughly 1/5) of the fluids your body needs.
Detoxes typically use a combination of water, juice, and whole foods (like fiber-rich bran) in moderation because this type of natural cleanse is less stressful for your body, helping you feel better during and after the process.
The Benefits of a Detox Diet
Weight Loss
Studies have shown people who use The Hollywood 48 Hour Miracle Diet® detox cleanse can lose as much as 10 pounds in just two days. Results will vary, but that weight loss can give individuals a huge leap forward when beginning a new diet or exercise routine for a healthier lifestyle.
Purging Toxins
Much of the processed food we eat (and the commercial beauty products we use) have harmful chemical additives that actually leach into our body and stay there. A detox allows your body's natural filtering process to purge this "toxic load" and get your body back in balance.
Brain Boost
Many people who undergo a detox cleanse report improved brain function. Chemically "resetting" your body can increase memory, decrease drowsiness, and improve sleep patterns.
How to Use The Original Detox Cleanse
The Hollywood 48 Hour Miracle Diet® is likely the first commercially available detox cleanse sold in The United States. It's been "on the market" and used by thousands of individuals well before detox cleanses became trendy! It's a tasty blend of pineapple, apple, and orange juice with the power of apricot, peach, and banana purees added in for their vitamin and mineral content. It contains Vitamins C, D, B2, B12 in addition to niacin, folic acid, and more—almost everything you need in one bottle. All you have to do is add an equal amount of water and it's ready to drink!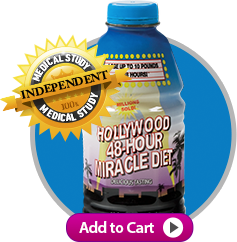 It's that simple!
5 Simple Steps for Your Detox Cleanse

1) Mix one 4 ounce serving with 4 ounces of bottled water (makes one bottle)
2) Repeat 4 times over the course of one 24 hour period
3) Drink at least 8 glasses of water per day in addition
4) Continue regimen for two days (48 hours)
5) Be amazed at the results!
Start Your Detox Cleanse Today
Interested in being a lighter, happier, refreshed you? Get the Hollywood 48 Hour Miracle Diet® and start shaping the new you today!