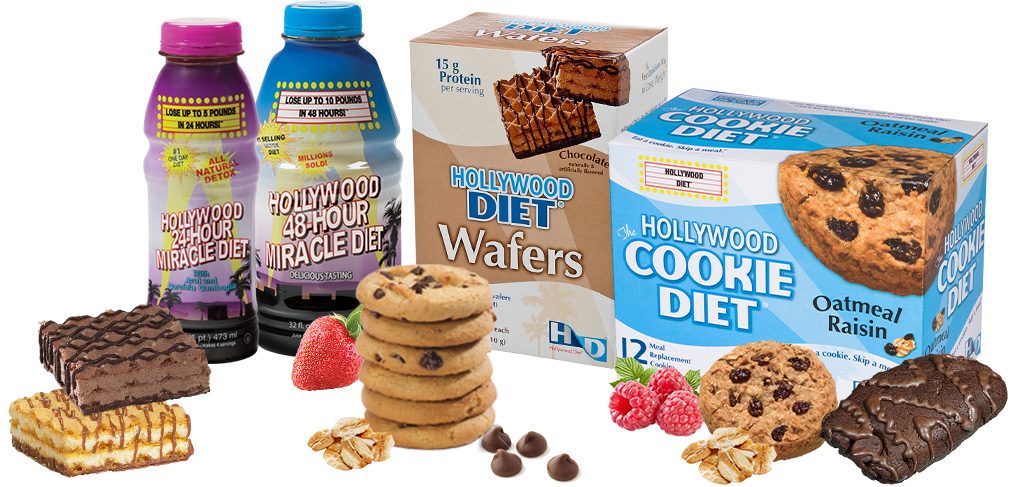 What is the Hollywood Diet®?
The Hollywood Diet® is a collection of products (drinks, snacks, and meal replacement cookies) designed to help you lose weight without starving your body of the necessary nutrition it needs to thrive and survive.
And (unlike many other diet products which flood the market every few years) The Hollywood Diet® has stood the test of time with scientific studies to prove its effectiveness!
People often see quick results without the lethargy and sluggishness one might suffer after crash dieting or going "cold turkey." How?
The Hollywood 48-Hour Miracle Diet®
The original Hollywood 48-Hour Miracle Diet® was created in 1997—over 20 years ago—to help people lose weight fast! It's a versatile juice blended with essential vitamins and minerals, as well as select essential oils, that help keep your body chemistry aligned while you fast from food for two days. Scientifically proven to help shed "up to 10" pounds in just 48 hours, many people use it on the weekend to kick start their weight loss, push through a plateau, or to detox.
Plus the flavor is exceptional!
I had gained 45 pounds in the 3 months after the baby was born bringing me up to 175 pounds. I took the 48 hr Hollywood Diet® and immediately lost 8 pounds. – Ginny

I LOVE this product! I have used it before and it always works for me! I lost 12 pounds in 48 hours! – Stephanie
The Hollywood 24-Hour Miracle Diet®
Similar in concept to The Hollywood 48-Hour Miracle Diet®, but with its own unique formulation, The Hollywood 24-Hour Miracle Diet® contains a special blend of six fruits plus Acai and Garcinia Cambogia, making it absolutely delicious.
When used over the course of one day it's been scientifically proven to help lose "up to 5" pounds of weight. Such rapid weight loss is a powerful psychological tool and combining The Hollywood 24-Hour Miracle Diet® with intermittent fasting diets can produce even greater results.
I have ordered this product multiple times because it really works for me and it tastes great, too! – Phyllis Y.

I love this product. This is the only one that 100% owns up to its word. You feel so amazing & clean & look a lot better when you look in the mirror!  – Erika
The Hollywood 24 & 48 Hour Miracle Diet® Benefits
Visible results fast!
Increased energy and vitality—no sluggishness or lethargy!
Ease-of-use—simply open, mix with water and drink!
Affordability—especially compared to other commercial diets.
Simplicity—everything you need to lose weight in one bottle.
The Hollywood Cookie Diet®
The great-tasting Hollywood Cookie Diet® offers healthy meal replacement and snack options to satisfy your cravings and keep you feeling full longer. It's an easy way to reduce your caloric intake and stave off those hunger pangs without feeling guilty.
The Hollywood Cookie Diet® comes in two flavors: Chocolate Chip and Oatmeal Raisin. But, if you're craving something a little more light and airy, the Vanilla and Chocolate wafers will soothe your sweet tooth at only 200 calories per serving.
And what do actual customers say about The Hollywood Cookie Diet®?
Best cookies ever. I lose more weight with these cookies than anything else. Love them. – Kathy H

I love the chocolate chip cookies. It's my favorite, a real meal replacement … I lost 32 pounds in 4 months, it was amazing! – Dacha
The Hollywood Diet® Crax®
Some people aren't just into sweet snacks. They crave crackers and potato chips, that salty/savory sensation that comes with every crisp crunch. That's why the creators of The Hollywood Cookie Diet® went back to the kitchen and created The Hollywood Diet Crax®. These crispy treats are sure to please those savory snackers and provide the same low-calorie, healthier snacking option as their sweeter cousins.
I'm a late night snacker and almost always crave chips or crackers – something crunchy. These Crax® not only are delicious, the bag is very generous. – Nicole
Why Use The Hollywood Diet®?
It's an easy way to jump start a diet and exercise routine for lifelong health.
It's a simple solution for those who want to see results (both on their waistlines and the scale) fast—as in dropping a few pounds before you put on the wedding dress fast.
It's a healthy cleanse routine for those who want or need to purge built up toxins.
It's a convenient tasty sweet or savory snack replacement option that won't leave you feeling sluggish or guilty.
So really the better question to ask is why will you use The Hollywood Diet®?
Try It Today and Lose Weight by Tomorrow (Literally)
If you've been struggling to lose weight, if you want a healthy sweet or savory snack option without all the saturated fat and empty calories, if you want to cleanse your body of built up toxins and live healthier, the Hollywood Diet® can help. We would love for our Hollywood Diet® products to help you reach your lifestyle goals. We know when you do you'll become a proud ambassador and share your success story next time someone asks you "what is The Hollywood Diet®?"