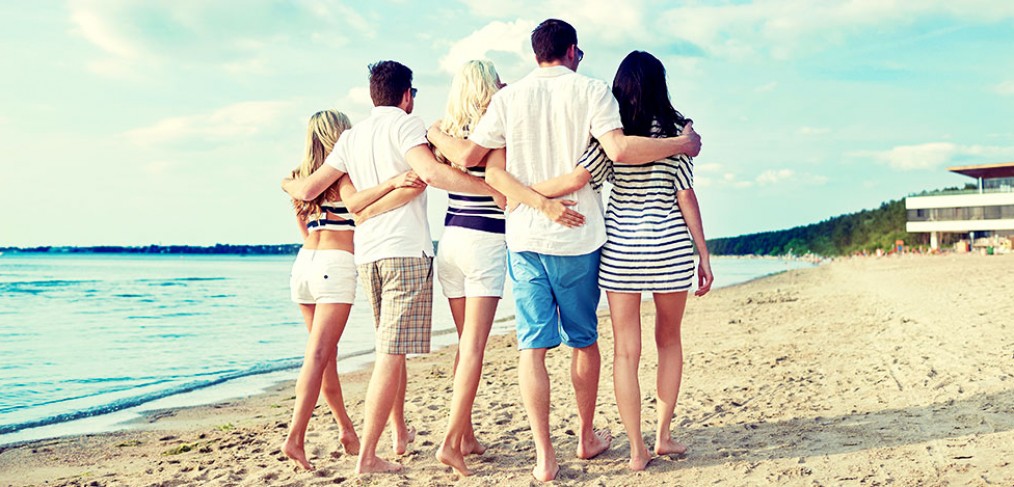 Get Set for Summer
Ah summer: warm weather, long days, and outdoor fun. But if shorts and tank tops have you feeling nervous about the approaching months because of your weight, now is the time to do something about that. Start this summer with renewed confidence and these six smart strategies to shed pounds.
1. Reset Your Eating Habits
In the winter, we need extra calories to maintain our body temperature, and we tend to crave rich, warming foods. As weather warms, you may find your appetite naturally decreasing, as your body tries to stay cool. For summer, think fresh, light meals. Take advantage of the bountiful produce available in these months to increase your vegetable and fruit intake. Enjoy crisp salads, sweet corn, juicy berries, and fresh squash.
TIP: Don't fall to prey to summer weight gain traps. Avoid cooling off with sugary drinks, popsicles, ice cream, and alcoholic beverages. Instead be sure to drink plenty of water to stay hydrated and avoid extra pounds.
2. Get a Jumpstart
With the Hollywood 48-Hour Miracle Diet® you could lose up to 10 pounds in 2 days. This is a great way to reset your body, detox, and get pumped to shed pounds for summer. Seeing immediate success motivates you to keep going in the right direction. You can also use the Hollywood 24-Hour or 48-Hour Miracle Diet® to maintain your weight loss, by enjoying the juice fast every couple of weeks.
3. Get Others Involved
If you have kids out of school for the summer, involve them in healthy eating. Make it a fun competition: who can eat the most kinds of veggies or have the most colorful dinner plate. Get your significant other, your family, or your friends on board to make this summer the best ever.
TIP: Challenge each other to stay on track and use social media to track and post your progress. Staying accountable to others will provide an extra push to keep you on track.
4. Get Moving
Exercise is key to fast weight loss. Depending on where you live, the winter weather may have kept you from enjoying the outdoors, so now is your chance to get out there! Bike, hike, walk, run, paddleboard, rollerblade, or do yoga in the park.
5. Protein Power
There is no "magic" ingredient for weight loss, but protein comes pretty close. This powerful nutrient provides satiety (fills you up) and keeps you from feeling hungry again as fast. That is why all the Hollywood Diet® snacks and meal replacements have plenty of protein. Our new crunchy snack sticks, Crax™ have 15 grams of protein per serving. Now that is a snack that makes sense!
6. Give it Up
Make a deal with yourself to give up just one unhealthy food. When you are faced with making a complete diet overhaul, it can seem overwhelming, but focusing on one thing is much more manageable. Once you have succeeded then you can make another change, until one at a time they all add up to tremendous results. Here are some of the worst food offenders and some healthy swaps that can help you make the transition.
Ditch Soda. Try flavored sparkling water. Pick a bubbly water without any sugar that will give you the refreshment you crave with no calories.
Ditch fast food. Try convenience food. Often people resort to fast food, because, well, it is fast. But there are increasingly more options for busy people at the grocery store, from fresh salads, to washed and chopped veggies, to precooked meals. Just be sure to read the ingredients carefully.
Ditch dessert. Try fruit. Summer offers a bounty of delicious fruits in season, such as sweet berries, luscious peaches, and juicy watermelon. Kick the sugar habit by choosing fresh, natural foods with plenty of nutrients.
Ditch chips. Try popcorn. With a satisfying crunch and minimal calories, air popped popcorn is a great substitute for fattening snacks. Add some flavor with a sprinkle of garlic powder and paprika. Don't have an air popper? Try Crax™ our healthy protein snack in herb & sour cream or zesty barbecue.